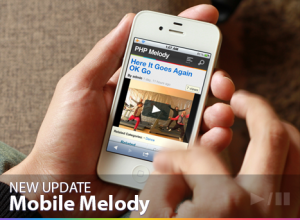 Merely 24 hours have passed since we updated PHP Melody but we're returning with some good news.
New Mobile Melody Update
The popular plugin for PHP Melody was just updated to take advantage of all the recently introduced features in PHP Melody v1.9. In addition to the new features, Mobile Melody has also been patched to correct existing issues.
We invite all existing Mobile Melody customers to download the latest version. If you haven't purchased Mobile Melody yet, we invite you to learn more about why 2013 will be the year of the mobile web and how you can benefit from it.
PHP Melody v1.9 Hotfix
The second good news for today is the fact that the problems reported in v1.9 have already been patched. If you were among the first to download the v1.9 update, you might need to apply this hotfix. In case you're just downloading PHP Melody v1.9, you should have nothing to worry about. The official packages found in your Customer Area account have already been patched.
We hope you'll enjoy the recent updates. Have a fun weekend.
FaceBook Comments