This post is dedicated to our PHP Melody fans but these guidelines apply to any other sites you might have.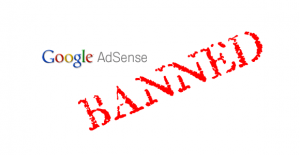 So, everything was going smooth you were on top of the world, checking your AdSense balance every morning when the unthinkable happened. Your access was restricted or you received a straight account ban. This happens nowadays more than you would imagine simply because Google favors advertisers (who pay) rather than publishers (who get paid).
Take the time to implement the following rules because the most annoying thing about getting banned from AdSense is that you rarely get a human from their staff to review your case.
Here's what you absolutely need to
avoid doing

:
Never ever(!) click on your own ads
If you accidentally click your own ads, report this ASAP via the "invalid click contact form"
Don't even think about making arrangements with other people to click on your ads – it's just not worth it
Don't edit the code generated by AdSense
Don't place AdSense in pop-ups, emails, downloadable software or IFRAMEs
Don't place AdSense on "thank you" pages, registration pages or pages with no (or little) content.

Remove AdSense from any pages which contain the following:

adult material (pics, videos, text)
any racial intolerance
extreme violence
illegal material
content related to: selling tobacco, selling beer, drugs, weapons, gambling, casino or hacking

Review your site to ensure it has no malware, unwanted redirects or the use of page cloacking
No keyword stuffing or "hidden text" to get higher paying advertisments
Don't place AdSense too close to videos, images or any content that might trigger accidental clicks
Here's what
you should do

to ensure your PHP Melody site is up-to-code:
Make sure you don't break any of the 8 major rules from above
Add lengthy and unique description to your videos
Review your top 20, 40 or 100 videos (based on views) and add descriptions to each of them.
If you rely heavily on AdSense for your income, invest in adding unique text content to each video
Add articles which are unique and not recycled form the web
Content is still king and if you write interesting and unique articles, Google will applaud your efforts and reward them accordingly.
If you decide to scrape articles from the web, you activate a time-bomb which Google will detonate at some point and penalize you for it.
Review and filter descriptions and tags for imported videos
We recommend reviewing the description and tags of videos imported automatically from Youtube's API. Profane or unwanted tags might creek into your site and cause problems.
Encourage comments on your pages
Figure out ways to make people comment on videos.
Be sure to use the "black list" feature to ban any profanity from messing with your AdSense ads.
Here are a few suggestions:

have your friends post comments on the their favorite videos
post new comments yourself to create an appetite for commenting
enable guest comments which allows unregistered visitors to comment

The best CTR is above the fold and where the visitor's attention is directed to
Use this nifty tool to see if your ads are above the fold.
Think about what actions your visitors take after consuming the content from your page.
You'll find that the most optimal ad position isn't always what you expect on certain pages.
Don't just slap a 728×90 banner in the header and expect miracles.
Keep the AdSense units under 3 per page.
Experiment with different color schemes
Some find great success in using similar colors, which blends in the ads with your page/content.
Try at least a few combinations because the CTR difference can add up in time.
If your site is attacked or compromised in any way, remove AdSense ASAP!
AdSense is a fantastic program for a wide range of websites. If you rely on AdSense for income, please don't take this lightly and invest time to ensure you won't have any nasty surprises. Once that's covered, keep in mind that even the smallest increase in CTR can add up over time. It's up to you if you'll get that increase or lose it to somebody else.
Good "luck"!
Useful Links:
FaceBook Comments