Thumbnail problem or?
Board index / PHP Melody - Video CMS
For PHP Melody version 2 and newer

---
Hello, i've the latest update of PHP Melody, when i try to add new Episode at Series it's not allowed to add Thumbnail from link when you publish that episode, but after the Episode is published try to edit that episode and this option is available..Any fix to upload Thumbnails when we publish new episodes?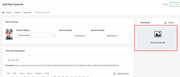 Non-verified

Posts: 13
Joined: Jun 24, 2015 7 pm
Reputation points: 0
---
---
---
Yes, but try to edit the video after that and there is that option to change the thumbnail with pic from url. If we use 1 choosed pic for one tv series the optimization for our website will be better. There will be faster loadings on all our pages/categories etc..
Non-verified

Posts: 13
Joined: Jun 24, 2015 7 pm
Reputation points: 0
---
---
Users browsing this forum: No registered users and 12 guests