We've been running a survey for the last few months to get a feel on what our PHP Melody customers think about their purchase.
The survey was simple and it required a simple rating of the following areas: product pricing, usability, our reputation, design and a question.
Well, the results are in and it seems the "80-20 rule" rules all. More than 80% of our customers offered a "Good" to "Excellent" rating in most areas.
Here are some details from the survey:
Surveyed people: PHP Melody license owners
Surveyed number of customers: 200+
Rating scale: 1-5 from Poor to Excellent
Here is the screenshot with the actual survey results: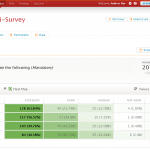 All in all we love the results but more importantly, customers are happy with our product.
The survey is still open and we wish to thank all the participants.
Disclaimer: Some ratings (2-3%) may have been made by fraudulent customers (i.e. fraudulent orders)
FaceBook Comments