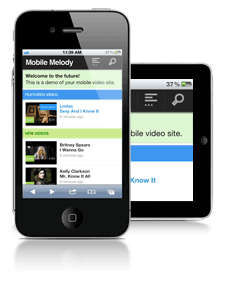 It gives us great pleasure to announce the release of our first official PHP Melody plugin: Mobile Melody
When you receive visitors from mobile devices (smartphone or tablet) they will be presented with a mobile-friendly version of your original PHP Melody site. The user can play videos, read articles, post comments and experience your site in a pleasant form, suited for the mobile experience.
Here are three main reasons why you might like to use Mobile Melody alongside your existing PHP Melody site:
1) Reach new audiences which prefer to use an iPad for entertainment and browsing the web
2) Accommodate the insanely growth rate in mobile traffic
3) Increase your ad revenue
We invite you to discover more about Mobile Melody, see the screenshots and the advantages of using this plugin.
For a live demo, grab your smartphone or tablet and visit: http://phpmelody.mobi/